planetYES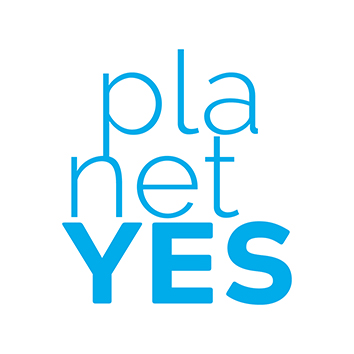 Fasholdgasse 3/7
1130 Wien
T. +43 699 11072152
www.planetyes.com
planetYES - creating better places

Da ich Partnerin dieses Projekts bin, nimmt planetYES eine Sonderstellung unter den Referenzen hier ein. Worum geht es?



»» planetYES bedeutet weltweite nachhaltige & innovative Entwicklung von Regionen und Städten mit regionaler Wertschöpfung und globalem Wissenstransfer.


»» planetYES ist in den interdependenten Bereichen Innovation, Infrastruktur, Ernährung, Bildung, Gesundheit, Unternehmensführung und Wirtschaft aktiv und kooperiert mit Wissenschaft und Forschung, Unternehmen und Praktiker*innen. Das generierte Wissen wird vernetzt und soll weltweit für einen rascheren Wandel zu Verfügung gestellt werden. - siehe www.planetyes.com

planetYES ist ein Jahr nach der Erstkonzipierung (wir sind noch lange nicht am Ziel …) bereits Partner mancher Regionalentwicklungsprojekte. Ich bin u.a. engagiert in Ja zu Brauau! »Der Bezirk wird glücklich, ressourcen-effizient, kohlenstoffarm - und bleibt wirtschaftlich erfolgreich.« Gemeinsam mit Bevölkerung und Unternehmen entwickeln wir eine Strategie für die CO2-Reduktion und gleichzeitig Steigerung des Wohlbefindens der Bevölkerung der gesamten Region mit ihren sechzehn Gemeinden.



Das Braunau-Projekt-Team: SERI, Forschungsinstitut für ein nachhaltiges Europa; DREISEITLwesearch; planetYES; Footprint Consult; Chalmers Tekniska Hogskola
Very clear and totally to the point! I'm thrilled! Thanks a lot!
Hans-Christian Kirchmeier | G9 Recovery Partners
I thank YOU again for the as always nice and competent support with our 'Waldbier' forest beer presentation!
Pia Buchner |
Austrian Federal Forests
Your lecture was very well held, informative, crisp and entertaining. High compliment! I also admire your attentiveness to the topic, which is very emotional and is a really big deal for everyone involved.
Heidi Schröck | Weingut Heidi Schröck
YES! we too can choose and, WE HAVE CHOSEN RIGHTLY! Thank you for the perfectly organized enjoyment, before, during and after respekt-Johanni!
Fred Loimer | Weingut Loimer
We have met two incredibly dedicated consultants who know the wine industry perfectly and are able to respond to your personal needs. They are also communication geniuses! They have exceeded our expectations!
Carolin & Erik Riffel | Weingut Riffel
Authentic – clear – persistent – careful, but unvarnished honest – of course professionally competent. BUT the big difference is their social competence.
Marion Ebner-Ebenauer | Weingut Ebner-Ebenauer
The day we spent together gave us an extreme boost of motivation and the very next day we started to implement things. The clear focus on our USP makes it possible!
Melanie & Johannes Trapl | Weingut Trapl
Much passion, lifeblood and energy is in every single bottle of our wine. It would simply be an unbelievable pity if nobody knew about it. That's why we like to work with you and with success to let people know about our activities here in Kitzeck.
Stefan & Bernhard Schauer | Weingut Schauer
It is not always easy to recognise one's own strengths and weaknesses. A neutral and open view from outside is often the best orientation aid. So the workshop was really a surprising enrichment for us with some 'aha-moments' from which we could take a lot of positive things with us.
Kathi Bauer | Weingut Bauer-Pöltl
You ask the right questions and do not let up when answers are supposedly difficult. With your help we have found a clear communication basis and our USP. You work with respect and appreciation at eye level with your customers. For us, you are experts in your field who know what they are doing!
Maggy & Joannes Müller | Weingut Müller
I would like to thank you very much for the joint workshop. Not only was it top-notch in terms of content, but the professional presentation in a relaxed atmosphere is something I will remember for a long time! For me it was the beginning of a very positive cooperation.
Tom Wohlfarter | Seidl's Inn