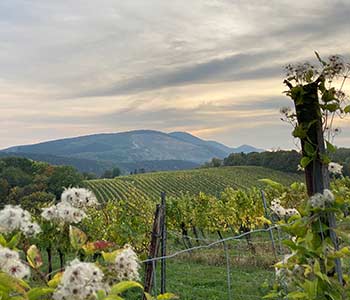 The fundamentals of positioning
---
Positioning work with winegrowers is one of our favourite tasks. What could be better than to lift their treasure together with them: That which distinguishes them from all the others. That which they do particularly well. Since presence workshops are not possible at the moment, here is a minimal guide.
---
November 2020
Translated with DeepL

There are about 4,200 bottling wineries in Austria, of which about 1,840 produce more than 30,000 litres of wine a year. They all have to survive on the market, try to succeed in trade and export and increase their brand awareness. In order not to get lost in the multitude of competitors, you have to stand out. But with what?
Therefore, the most important question in the positioning process is: What makes me different from all the others? What is my unique selling point? When you think of famous winemakers, you immediately associate something with them - without thinking much about it: be it a vineyard, a special wine, a grape variety, an outstanding label, a branded wine, an ageing method or perhaps a dazzling personality. These colleagues are positioned.

With a detailed look at your own winery, this is not so difficult. In the joint positioning process, a detailed examination of your personal values followed by an analysis of your strengths and weaknesses would be the first step. Very briefly, a look at your wine strengths is enough for now:

What is your wine style? To the point in two sentences.
What is the wine (vineyard, grape variety, vinification, ...) with which you have had the most success so far? With your customers, at the fairs, in reviews, in restaurants, in the trade?
Is this the wine you would like to be associated with in the future? If not, which wine would it be? It would definitely be recommended, because you have already gone some way with it.
What distinguishes this wine? Style …

How is it vinified and matured?
What is the situation in his vineyard? Soil, microclimate, viticulture, ...

And what does it take to specifically bring this wine to the forefront? What would you like to have achieved with this wine in the public perception in five years? And what does this mean for the realisation and your work? Who is the right target group for these wines and how can you reach them (website, social media, newsletter, restaurants, trade partners, online tastings, trade fairs, tastings, competitions, press relations, ...).
It is also important to take a look at the overall assortment. Is it coherent or should it be cleaned up? Usually less is more and helps the positioning of the winery. Your trade partners will thank you for it. Your equipment (label, capsule, bottle, carton) should also be given an analytical look. Is it suitable for your target group or should you improve it?

Coupled with your company story - how would you or perhaps your best customer or best friend sum it up in two sentences? - you are already a big step closer to your professional positioning. It is allowed to be human here! No, it has to be human. The more emotional, the better!

IMPLEMENTATION. Now the first steps have already been taken: Putting your focus wine in the right light on the website - see also this column article - and at all levels.

We can very happily tackle the points mentioned right away, and would be happy to go deeper into the positioning process with you as soon as we are allowed to work on it together in a room again. Feel free to contact us at any time at: office@sylvia-petz.at