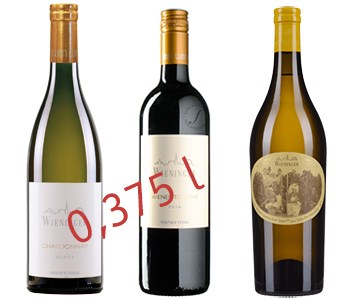 Plea for the half-bottle
---
Glass bottles contribute up to 49 per cent to the ecological footprint of a wine. Lighter bottles can do a lot of good in this respect, and even more do smaller containers. And from another point of view, half bottles are also the right decision for many other situations.
---
January 2021
Quicktranslation with DeepL

Half bottles with a capacity of 0.375 litres have advantages and disadvantages. From an ecological point of view, depending on the use (sample bottles, online tastings, …), the advantages outweigh the disadvantages. And some things speak against it, as it is in life. A winegrower who has been bottling part of his range in half bottles for many years also has his say: Fritz Wieninger. A survey in the Facebook group "Hauptsache Wein" confirms the trend.
Jancis Robinson MW has been advocating lighter glass bottles or glass substitutes for environmental reasons for many years. At the Sustainable Wine Conference in November 2020, she again pointed out that 0.75-litre wine bottles shipped around the world are a huge waste. Apart from the CO2 emissions, , only minimal quantities of wine are needed for tasting purposes (press, trade, gastronomy), the rest is poured away. What a pity for the good drops! She asks that only small bottles - 0.125 l or a maximum of 0.375 l - be sent for tasting purposes.
Online tastings & trainings. Romana Echensperger MW and Annemarie Foidl, president of the Sommelier Union Austria, agree with Jancis. Especially in these new times, when tasters sit alone in front of the screen, small formats are the right choice. Annemarie prefers the Austrian "Stifterl" (0.125 l) for sommelier training and asks the winegrowers to refill the wines before sending them out. James Lawrence does not only refer to small bottles in his article "The rise of new wine formats" in Wine Business International. "Wine in a tube", i.e. in tubes made of glass, plastic or composite materials in a 6-pack, is a great thing. Inexpensive, easy to handle and lightweight in shipping. A ray of hope for the airlines, for example. In the meantime, there are other good alternatives to glass, be it bag-in-box or flat square bottles made of recycled PET (consume less packaging volume), bottles made of compostable material, ... Definitely worth considering for the budget sector.

Trade & gastronomy. The trade is taking the same line. In their presentation at the Wine Marketing Day, Benjamin Mayr from Del Fabro and Döllerer's sommelier Alexander Koblinger MS plead for small formats. More people would be interested in wine if small bottles suddenly made wine tasting affordable. Moreover, small bottles are simply a good choice for consumption at home or in restaurants. Especially at Weinhaus Döllerer, they have been using half bottles for many years, even senior boss Hermann Döllerer had a soft spot for them. If you look in the Döllerer shop today, you will find over 150 items with half bottles. Alexander said on the phone: "Half bottles are a big thing! They sell great, some restaurateurs have been buying them for many years, and the trend is going up." Yes, logical. If you've always wanted to drink a La Tâche, it moves into more affordable reach in the half-bottle.
Romana liked to sell half bottles frequently during her time in the restaurant business. "That always worked well with exclusive wines. Even if there were only two of them, the guests could eat two to three different wines with the menu and be fit when they went out the door. It's not much use with simple wines, but that's why they serve them by the glass." She sees competition for the half-bottles in Coravin. But here, too, it's about the feeling of having your own little bottle at the table, it's simply nice. Star sommelier and restaurateur Gerhard Retter said in the Facebook discussion mentioned below: "Especially in the high-end segment, it's a fantastic opportunity to taste the wines ... half bottles always give a preview of the development of the wine in the normal bottle!
From the winemaker's point of view. Fritz Wieninger has always sold wine in the half bottle and in the "Stifterl" (0.125 l). This is not only true for the selection here in the picture, especially the medium and exclusive segment he offers in the half bottle, the 0.125 l bottle is the perfect advertising platform in the hotel minibar or on the plane. "Putting wines into demibouteille was an important topic for me from the very beginning, as I often reach for higher qualities in demi bottles even when visiting restaurants. It's understandable that you can't always offer high-quality wines by the glass, but with a demi you can easily accompany a course or two, even for two, and then move on to the next wine."
Consumers & Wine Professionals. At the end of November, I conducted a small survey in two Facebook groups. Among the professionals on "Hauptsache Wein" and in the women's group "Wiener Wunderweiber". And here, too, it is clear that the Demi is on the winning track. Among the professionals, 316 (74%) participants were in favour of buying half bottles in restaurants or online shops, 109 against. So more than two-thirds would go for half-bottles if they were offered. In the Wunderweibern, 88 women responded, 71 (80 %) were in favour of half-bottles, 16 against. The discussion on Hauptsache Wein is also worth reading; if you are a (German speaking) member, you can find it here.
Counterarguments. Yes, what are the arguments against it? Well, first of all, the shelf life. It is said that wines age more quickly in smaller bottles than in large ones. But if you read the discussion on Facebook, this is probably not set in stone and also depends on other factors. Then secondly, the somewhat more cumbersome handling. According to Fritz Wieninger, however, this should be limited. And thirdly, the relatively higher price of the bottles and corks. Well, again according to Fritz, this is between 0.50 and 1 euro and can be calculated in quite transparently. And that would have been it, had it not been for sustainability: some winegrowers have expressed the view, and rightly so, that the CO2 emissions of small glass bottles are even higher than those of normal bottles, due to the ratio of container to content. The ratio of cork, capsule and label is also worse. However, there are no figures even when asked by bottle producers. According to our research, the lightest 0.375-litre bottle weighs 280 g, and we are still investigating the CO2 emissions of the production process. In this respect, the call for half-bottles is extended to include the call for half-bottles made of alternative materials.

I'm definitely looking forward to seeing a larger selection of half-bottles in restaurants in the future, and also in online shops. A small bottle is also a pleasure for two and the liver will thank you. And if one or the other corpus delicti should arrive here, I will of course be particularly pleased 😊.