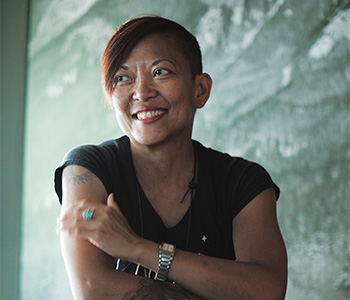 Sommelier spotlight: Linda Milagros Violago from Canlis in Seattle
I am excited to introduce a bi-weekly column where we'll speak to sommeliers all over the world. The new interview series will aim to paint a picture of Covid's impact on the wine industry with its continuing challenges. It will also ask how we (consumers or winemakers, or agents) can support sommeliers during these still difficult times, what advantages they see for European cool climate wines, and what excites them about the future.

---
STEPHANIE ARTNER
November 2021

Photo: Linda Milagros Violago / copyright: Jeremy Beasley

Sommeliers are the heart and soul of every wine program. During my career in the wine industry, I had the pleasure to meet the best in their field who work tirelessly and deeply care about their craft. These professionals are storytellers who take diners on a journey to different countries, vineyards, and people. They translate the message in the bottle in a way that lets the guest be open to trying new things. In the hand of a sommelier, you can trust that whatever gets poured in your glass has been carefully selected and bears in mind your feedback, the dish on your table, the occasion, and more. Depending on the situation, and the guest, this can be an easy or challenging task. In any case, the sommelier will try to make sure that whatever lands in your glass is to your utmost enjoyment.
The first Sommelier of this new interview series is Linda Milagros Violago who leads the wine program at Canlis in Seattle. Linda calls herself an itinerant Sommelier who travels the world to work in the finest restaurants (i.e., Charlie Trotter, Chicago; Mugaritz, Errenteria; Geranium, Copenhagen; etc.). In September of this year, she joined Canlis as the first woman to lead the program in the restaurant's 71-year history. We say that it was certainly about time and believe they couldn't have found anyone more suitable. Thanks again to Linda for taking the time to answer our questions today.
How did/does Covid impact your wine program?
Linda: Keeping in mind that I am only two months into this new role, new city, new market...
Canlis was able to sell a lot of wine during the pandemic lockdowns and were fortunate enough to have remained open in some fashion (from drive-through burgers to home delivery, to crab shack, bingo, etc.). When they finally re-opened in July, it was clear that those who came out to dine were celebrating dining again. We're still seeing that now as sales are higher than ever (compared to nightly sales pre-pandemic). With the arrival of a new chef and, thus, new philosophy and new menu, and my arrival, we've attracted other demographics - younger, curious, open, and, in some cases, more political. It's a very exciting time to be here, in this very place, in this time in restaurant history (i.e., post-pandemic, at a restaurant that has been around for 71 years.
What is the biggest challenge?
Linda: The biggest challenge is getting wine. The global shipping issue is real. For example, there is very little Champagne in the market because it's all delayed from various shipping sources and ports. For example, I've been waiting since September for one wine, and it hasn't arrived yet, though it has been in CA for over a month. This affects private events and event planning, and overall list building. We're fortunate enough to have a healthy-sized list, but the depletions in the past two months are real and I cannot fill the holes fast enough. We're able to find good alternatives for most of the wines, but the consumer may not be fully aware of the challenges we have to face. For example, the port of Seattle is now closed to new ships. Some have arrived, but it's taking time for items to be checked and moved through. Some ships have been re-routed to Houston and then will have to be driven up to us. Will that add cost in addition to time? Absolutely. That's just wine. I have no idea about other consumer goods. If it's on a boat (like wine, or glassware), it's going to take forever. We ordered glasses in July and hope to get them next month.
Where do you see advantages for European cool climate wines from Austria, Alto Adige, and Germany in your wine program?
Linda: These types of wines, though difficult to source in Seattle right now, are well-suited to our cuisine which has a strong Asian influence and incorporates a lot of locally sourced raw ingredients. They are also more accessible in terms of price and style, which means that a guest might be more willing to try a new (to them) variety or producer.
What excites you about next year?
Linda: I'm excited to pour a whole lot of diversity. Especially for wines by the glass, I want to also actively support the smaller producers who don't have the luxury of a giant financial backer. Things we consider are sustainable practices, respectful and intentional practices, and, yes, women, people of color, and funky wines. The restaurant has always redefined itself over the years - and over the pandemic (there were 10 different offerings) - and has made room for many at the proverbial table.
Thanks, Linda, for your insightful interview. Next up in this new sommelier spotlight series is Christopher Sealy, Wine Director from the ALO food group in Toronto. Stay tuned!