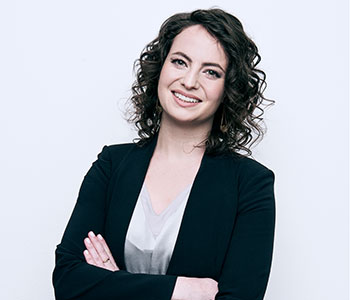 Sommelier spotlight: Andrea Morris
In this third Sommelier Spotlight, I am speaking with Andrea Morris, the Beverage Director from Union Square Café (USC), the flagship restaurant that launched Danny Meyer's Union Square Hospitality Group in New York.

---
STEPHANIE ARTNER
January 2022

Photo: Andrea Morris

Originally from California, Andrea Morris is a graduate of the Culinary Institute of America (CIA) and has worked
at the most prestigious restaurants in New York City
such as the 3 Michelin Starred Eleven Madison Park, Oceana, Jean-Georges, Nix which received a Michelin Star within its first year and most recently Intersect by Lexus restaurant, till joining the famed USC team. In addition to gaining experience within some of New York's top restaurants, Andrea joined the Court of Master Sommeliers after passing the Advanced Sommelier Examination in 2013. She was also featured in Zagat's 30 Under 30 List in 2016 and was named StarChef's Rising Star Somm in 2017. Most recently, Andrea was named one of Wine Enthusiast's 40 Under 40 Tastemakers of 2019. We are excited to speak with this Sommelier superstar today.
How does Covid impact your wine program?
Andrea: For the first couple of months after re-opening, I was only buying the essentials. Now that we have been open and busy, I'm just maintaining inventory value rather than growing it. I've really been focusing on value at every level of pricing and trying to feature wines that are hard to find retail, since everyone bought so much wine from their local wine stores, I want them to feel like our wine list has bottles that are worth the restaurant mark-up.
What are the biggest challenges and how can producers/importers/consumers support you better considering these issues?
Andrea: That's a hard question! I think one thing that has been tricky is allocations. Obviously, I want to take all of my allocations, but I just have less flexibility and needs now so I can't always fully commit. I'd love it if it didn't affect my next year's allocation, but I know that that's not always possible because of our crazy liquor laws. For consumers, I think some level of understanding that we may not have a wine that they loved two years ago. Some guests have acted as though they're being personally attacked when a wine they like has either come off the list or the price has gone up on a new vintage, which is just so silly and frustrating.
When you think of European cool climate regions like Alto Adige, Austria, and Germany, what would you be interested in tasting & learning more from/about?
Andrea: I'm curious about how these regions are reacting to climate change. We've all heard about Bordeaux's experimental grapes, and I'd be curious to hear how cooler regions are preparing for the coming years, whether it's new grapes or different farming practices.
Where do you see advantages for these regions in your restaurant?
Andrea: As French white regions become increasingly expensive, especially Burgundy and Sancerre, buyers and guests alike are looking for other mineral-driven and refreshing white wines. I've been really excited about some of the different expressions of Gruner coming out of Austria, some of them feeling richer and almost chardonnay-esque, as well as the Sauvignon Blancs coming out of Styria and Alto Adige that I often prefer to Loire SB and I love turning guests on to them for value.
What are you excited to pour in your guests' glasses this year?
Andrea: I've found that many guests are more open to Riesling these days, so I'm loving turning them on to different styles of the grape. I currently have Von Winning 'Winnings' Riesling by the glass, and my servers have loved pairing it with some spicier dishes and seeing the lightbulb moment happen for our guests.
Thanks, Andrea for your insightful interview. Next up is Simon Zimmermann, Head Sommelier, Happolati Restaurant, Oslo. Stay tuned!