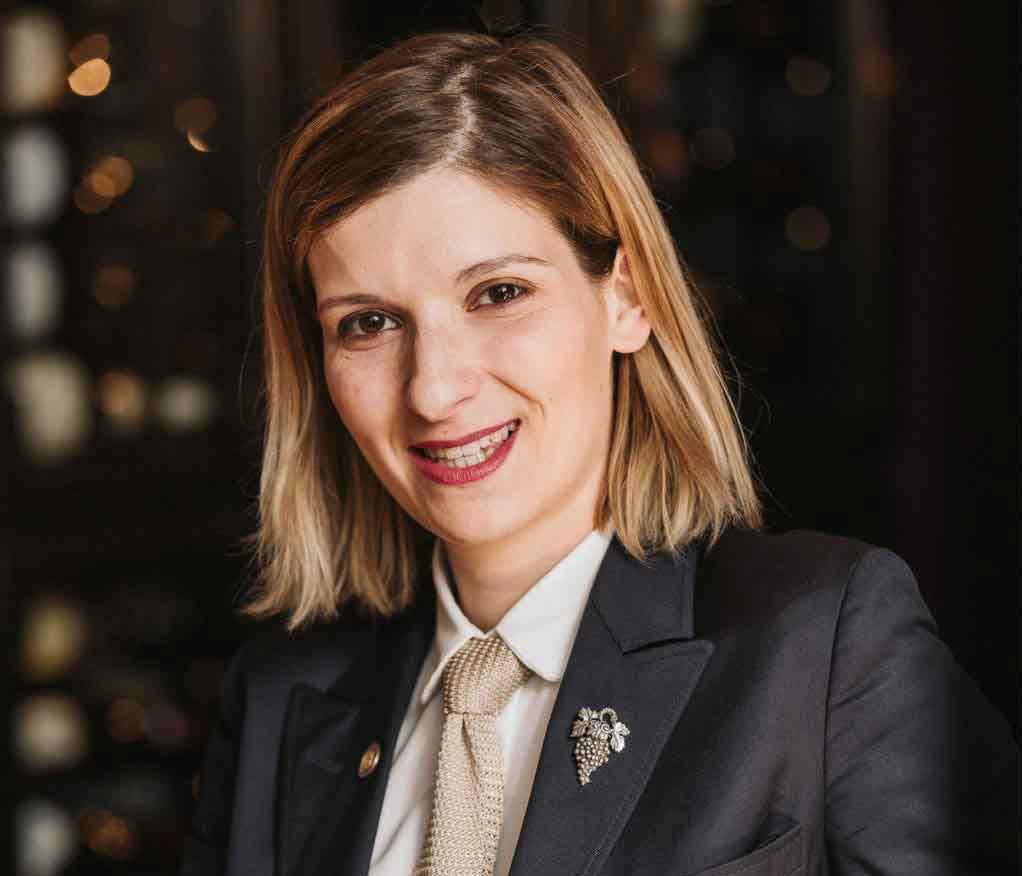 Sommelier Spotlight: Beatrice Bessi
In this fifth installment of our Sommelier Spotlight series, I speak with Beatrice Bessi who is the Head Sommelier of the Chiltern Firehouse in London.

---
STEPHANIE ARTNER
February 2022

Photo: Beatrice Bessi

Beatrice Bessi has been working in hospitality for 20 years. Originally from Italy, she began her career as a Restaurant Manager for
Massimiliano Alajmo
, who is considered one of the 50 best chefs in the world. Beatrice was eager to concentrate on her wine career and soon after moved to London where she joined Ronan Sayburn MS and his team at the award-winning
67 Pall Mall
whose wine list features 1,200 wines-by-the-glass and nearly 5,000 bottles collectively representing 52 countries. She started as a junior sommelier and moved up to Assistant Head Sommelier of Terry Kandylis. During this four-year stint, she also passed the Advanced exam CMS. Right now, besides being the Head Sommelier at
Chiltern Firehouse
, an Andre Balazs 5-star luxury hotel and restaurant in Marylebone, London, Beatrice is studying for her final MS exam and WSET Diploma. Chapeau!
Beatrice, thanks for taking the time to speak with me today. How does Covid impact your wine program?
Beatrice: The biggest impact for us is that the availability of wines is unstable. Before Covid, I could choose from 10 different Bordeaux in comparison to three now. Prices are going up too and I have to wait between two and three months to receive my orders. On the upside, once reopened in the late spring and summer of last year people would spend twice to three times more than in 2019 and there were hardly any no-shows in these first few months at all.

What are the biggest challenges and how can producers/importers/consumers support you better considering these issues?
Beatrice: Right now, our biggest challenge is finding staff. Due to Covid and Brexit, all restaurants are looking for people. There is a big fight for the best sommeliers. Hence restaurants not only need to offer a competitive salary but also more value by investing in a sustainable workplace, training, courses, etc. I am not sure if 2022 is going to be much better. Also when employees had to isolate due to Covid, we were shorter in staff and thus had to accept fewer covers. I welcome that producers from France started to come back in October and that most of the suppliers started to do more tastings again too.

When you think of European cool climate regions like Alto Adige, Austria, and Germany, what would you be interested in tasting & learning more from/about?

Beatrice: We are a big supporter of these regions which reflects well on our wine list. Through my preparations for the MS and WSET diploma exams, I am constantly learning and participating in tastings when possible. The Austrian Wine Marketing Board organized a terrific online tasting last fall!

Where do you see advantages for these regions in your restaurant?

Beatrice: These regions offer the best varieties of the world, many different styles, and a big choice of quality producers, so we represent them. The versatility offers us to play around with these wines and have consumers try new things. The natural accessibility of these wines excites us. Especially now we want to keep the passion for small regions of high quality and their wines alive.
What are your hopes for next year?

Beatrice: We hope it's going to change for the better. These are all hard challenges, and ask us to adapt to massive changes. We need better support from the government because restaurants can't continue like this. But we'll bounce back from it, I know it!

Thank you Beatrice for your insightful interview.