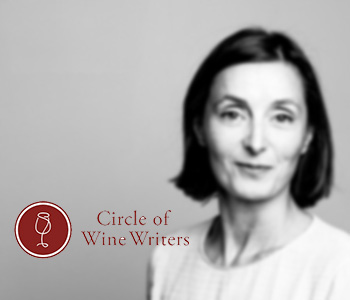 Interview for the Circle of Wine Writers
---
The
Circle of Wine Writers
is the most prestigious international association of wine and spirits authors, writers, journalists, bloggers, broadcasters, photographers and educators. It is an honour to be accepted into this noble community. It is also an honour to be listed on the website among the
Friends of the Circle
, which I received in June. My interview partner was the fantastic
Amanda Barnes
from Argentina.
---
June 2022
Photo © Andrea Peller
circleofwinewriters.org


Amanda Barnes: Sylvia Petz is a Friend of the Circle with her prominent, and eponymously named, agency in Austria. In our Meet the Friend interview, we discover why she realised the value of top-quality Austrian wine at a young age and how she strives to drive forward organic wine production through her agency.

How did you get into wine?
My grandfather already attached great importance to good wine at our inn in Upper Austria. In the 1970s, by the standards of the time, we had a very well-stocked wine cellar with single-vineyard wines from the Wachau and the Kamptal, with French and South Tyrolean wines. Even as a child, it was clear to me that this was something special. It became concrete during my studies in the early 1990s, when I worked as a freelancer for Austrian Wine and also promoted Bründlmayer's first big sparkling wine, the 1989 Brut vintage.

How have you seen the recognition of Austrian wine grow in the global market since you started the agency in 2009?
Austria had been known for great white and sweet wines for many years. In the meantime, our red wines and great sparkling wines have followed suit. For example, the top Parker ratings of 95 points each for a Blaufränkisch from Weingut Moric and a vintage sparkling wine Blanc de Blancs from Ebner-Ebenauer were certainly groundbreaking. It's the freshness, fine structure and often the great minerality of our cool-climate wines that make the Austrian style so special.

What has developed strongly in recent years are the many organic and biodynamic wineries; here we are among the international leaders, with a share of over 15% of the total vineyard area [cultivated organically or biodynamically]. Also with natural and orange wines, together with a few other European wine regions, we are ahead of the game, and especially [popular] in the Scandinavian countries.

What excites you most about working with Austrian wine clients?
I work mainly with smaller winegrowers and with this one highly relevant European biodynamic winegrowers' association - respekt-BIODYN. With all of them I have a very friendly relationship based on trust, with some real friendships having developed. This is also probably for the reason that we really want to understand our customers and their needs and would never persuade them to do something that does not suit them. I'd rather do without sales. And what certainly unites us is our love of nature; sustainability at all levels is one of the main commitments of my agency. That's why almost all my clients are certified organic or on their way to becoming so. This shared enthusiasm for regenerative agriculture is a great basis for our cooperation.

What do you think are some of the most exciting trends in Austrian wine at the moment?
For me, the rehabilitation of old grape varieties like Müller Thurgau or Blauer Portugieser. They were always portrayed as being of inferior quality and suddenly there are wineries with old vines of these varieties that are making fantastic wines from them. Then, of course, there are our sparkling wines, where we have world-class producers like Loimer, Ebner-Ebenauer, Bründlmayer and many more. And of course, as mentioned above, the strong move towards organic and biodynamic. Experimenting with different containers - concrete eggs, granite barrels, amphorae, large wood. Austria is a super exciting wine country.

Tell us about anything that your agency, Sylvia Petz Der Organisierte Genuss [translated as 'agency for organised enjoyment'], has lined up for 2022 that might interest members…
We just had a festival of the respekt-BIODYN group at Weingut Ott in the Wagram, with, among other things, a masterclass on the topic of biodiversity. All 28 winegrowers were present in-person to serve their wines.

In autumn, there will be a presentation by a Styrian producer of top, unsweetened fruit juices (blueberries, lingonberries, various types of apples, pears, …) to accompany meals.
Then there are two big projects for 2023 and 2024. The first will be a wine and gourmet festival from 19th to 21st May in Baden-Baden in Germany, where we have taken on the part of sustainable producers and events for Falstaff, and the second will be a big festival in Vienna to celebrate 100 years of biodynamics around the beginning of summer.

As summer approaches, do you have any nice plans beyond work?
Yes, several shorter ones. In July, we will spend a week in Bad Aussee in the Salzkammergut. Hiking, doing nothing, lying in the sun by the lake and eating well. In August, a family visit with my daughters to Zürich and Feldkirch, Vorarlberg, with a trip to Lake Constance and the Arlberg. And in September, a week at the seaside, but the plans have to become more concrete first. And possibly a yoga retreat in Styria at the biodynamic Tauss winery.